EVENTS & PARTIES
AT HALECAT HOUSE
Halecat is very special - a fabulous place for a celebration in a stunning situation. It has an air of
elegant society and yet it remains a place in which children love to play. The house and gardens
can be tailored to suit any occasion and you are free to use the caterers of your choice.
Click here to view availability and tariffs.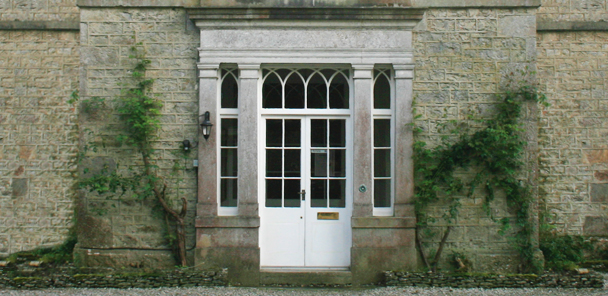 Entrance
The entrance is through double doors into
a bright lobby with mosaic floor, leading
to a magnificent open double height hall
with grand staircase.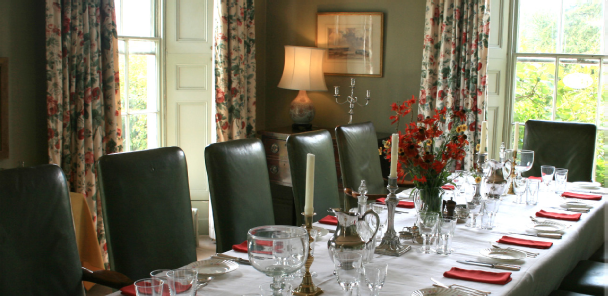 Large
Dining Room
There's room for fifteen around the table in the dining room if you want to create a formal atmosphere and dress up and dine in style. You'll also find that the room gets plenty of sunlight, so you can look like the perfect family over your cornflakes in the morning.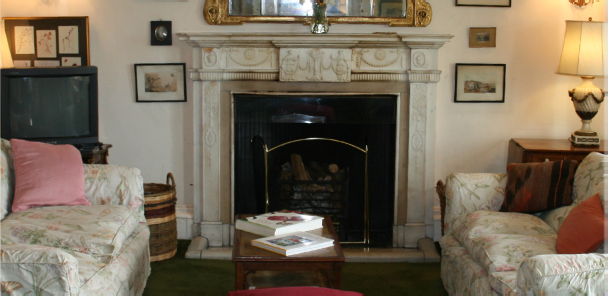 Sitting Room
Our sitting room is probably the main place you will relax as a guest at Halecat; when you aren't out enjoying the fresh air. It is comfortable and light in summer, with doors that open out onto the terrace and lovely views of the garden. Meanwhile on those dark winter evenings you can close the shutters, get a real fire going, put on a CD, the TV, or a DVD. Or you can keep them turned off and enjoy each others company. The old fashioned way.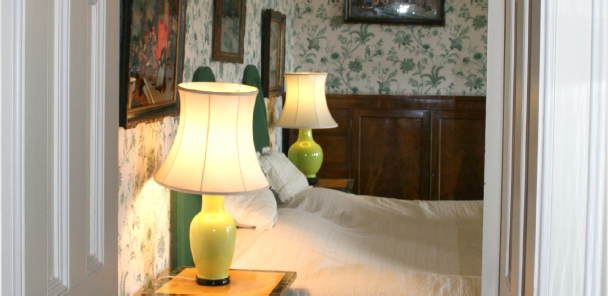 Bedrooms
You can see for miles from our bedrooms over Arnside and Morecambe Bay and the one thing we can promise is a good night's sleep. There are three doubles and one roomy single bedroom. Our bedrooms are large, with high ceilings and plenty of room for extra beds if you want to turn a double into a family room. Two of the bedrooms have en suite bathrooms with cast iron baths and original WC. 
A third bathroom, across the landing, is an ideal family bathroom. Large towels are provided, but don't forget to bring your own rubber duck!
The plumbing is original, so can be a little quirky at times, but it is powered sustainably by a brand new biomass boiler, (with as much hot water as you can handle) and there is central heating throughout.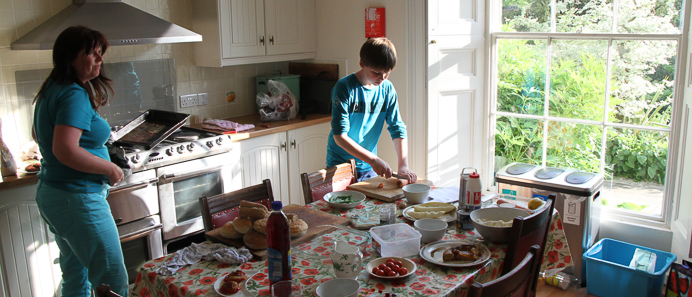 Kitchen and Utilities
Our kitchen is fitted out with everything you need for self catering including electric 6 hob, double oven and microwave. And you'll never be short of a teapot at Halecat!
You just need to provide the food, the drink and the good company. We encourage you to recycle wherever possible and provide the facilities to do this. A separate utility room upstairs houses a washing machine and dryer.
Our kitchen is airy and light and there is plenty of room to prepare a meal while you catch up on what's happened since you last saw each other. Halecat still has its quirky style, with original plumbing, heated by a brand new biomass boiler.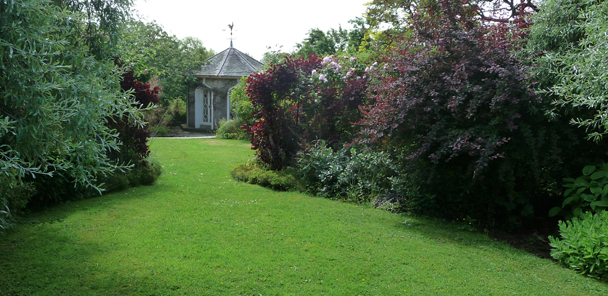 Garden
The gardens were meticulously designed by
the late Fortune Stanley, who was heavily
influenced by the garden of her girlhood
at Ardtornish in Argyll.
They are particularly renowned for their
rare varieties of roses and are open to the
public during the day. The gazebo is especially
peaceful; croquet and football are often played
on the main lawn.